Are you tired of your dog pulling on the leash during walks or disobeying commands? The right collar could make all the difference in your dog training success. But with so many options on the market, how do you know which one to choose?
In this article, we'll explore the different types of collars available for dog training and highlight the pros and cons of each. By the end, you'll have a better understanding of which collar is best suited for your dog's needs and training goals. So let's get started!
What is the Purpose of a Training Collar?
A dog training collar, also popularly known as an e-collar or electronic collar, is a versatile tool to effectively train dogs and discourage undesirable behaviors. The main purpose of a training collar is to help owners communicate with their dogs by transmitting a signal or prompting a response that steers them towards desired behaviors and actions.
Training collars work by emitting a signal, vibration, or sound that interrupts unwanted behaviors while simultaneously rewarding positive behavior using a remote control device. When used correctly, the collar can help a dog understand that certain behaviors are unwanted, and that they can be avoided to receive positive reinforcement. For instance, a properly trained dog would learn to stop barking excessively or jumping on people when prompting with the collar.
It is important to note that training collars must only be used when the dog has some basic training, and understands simple commands such as "sit" and "stay". This is because the device relies on negative reinforcement to communicate to the dog what they should and should not do. Therefore, without basic training, the collar may cause confusion and anxiety to the dog.
Types of Training Collars
There are several types of training collars that are available in the market today. Each type has its own benefits and limitations, and can have a different impact on your dog's training. In this article, we'll explore different types of training collars and how they can be used to enhance your dog's training.
1. Flat Buckle Collar
The flat buckle collar is the most commonly used collar for dogs. It is made of a sturdy material, such as nylon or leather, and is secured around the dog's neck with a buckle. This collar is used for everyday walks and could be used as a starting tool for training. It is a basic type of collar that doesn't offer any training features.
2. Martingale Collar
Martingale collars are a type of training collar that is different from flat buckle collars because they can tighten when the dog pulls on the leash. This collar is designed to prevent your dog from slipping out of the collar during walks. It is also a good collar to use when training your dog to walk on a loose leash.
3. Head Collar
The head collar is a type of collar that encircles the dog's neck and muzzle, which mimics the function of a halter for a horse. This collar is designed to help you control your dog's head and, therefore, the rest of its body.
4. Prong Collar
The prong collar is a type of training collar that has metal prongs that rest against the dog's neck. These prongs are designed to create pressure points on the dog's neck when pulled, which can help control the dog's behavior.
5. Shock Collar
The shock collar is a type of training collar that uses static stimulation to control the dog's behavior. The collar has a remote that allows you to control the level of stimulation that the dog receives.
Factors to Consider When Choosing a Dog Training Collar
When it comes to dog training, choosing the right collar is essential for success. There are several factors to consider before making a purchase and investing time and effort into training your furry friend.
Behavior: Choose a collar based on the behavior you want to train, such as martingale for pulling or tone settings for excessive barking.
Stimulation: Consider the type of stimulation the collar provides, such as static, vibration, or audible tones, based on your training philosophy and your dog's temperament.
Levels of Stimulation: Decide on the collar that offers the appropriate range of stimulation levels, starting from the lowest and gradually increasing as needed.
Comfort Level: Ensure the collar fits well, doesn't cause discomfort, and allows natural movements without rubbing or scratching.
Tone Setting: Opt for a collar with a tone setting if your dog is sensitive to static correction, as it provides a warning sound before any stimulation.
Waterproof Collars: For water activities or rainy areas, choose a waterproof collar to ensure effective operation even when wet.
Best Collar for Dog Training
Dog training requires careful consideration of various factors, such as behavior, method of stimulation, level of comfort, and more. One crucial aspect of dog training is choosing the right collar. With an array of collars on the market, selecting the best one for your dog can be daunting. This article will provide a detailed guide to help you discover the best collar for effective dog training success.
PATPET Dog Training Collar
The PATPET Dog Training Collar is an excellent tool for training your dog. It is a versatile and affordable option that can help you teach your pet basic obedience commands and correct undesirable behavior. In this article, we will provide you with a detailed review of the PATPET Dog Training Collar and explain why it is an excellent choice for dog owners.
The PATPET Dog Training Collar has three training modes, beep, vibration, and static. The beep mode produces a sound that attracts the dog's attention and signals that a correction will follow. The vibration mode gives the dog a gentle buzz that is enough to interrupt its unwanted behavior. Lastly, the static mode produces a mild shock that provides a stronger correction when the beep and vibration modes are not enough.
The collar is waterproof and has a long battery life that makes it perfect for outdoor training or even for hunting dogs. It also features an adjustable level of correction, allowing you to customize it to your dog's behavior and temperament. There are three levels of correction for both vibration and static modes.
The PATPET Dog Training Collar is available in a wide variety of colors, including black, blue, green, orange, pink, purple, and red. This makes it easy for dog owners to find a color that suits their taste and lifestyle.
PetSafe Remote Dog Training Collar
PetSafe is a well-known brand that has been producing high-quality dog-training collars for years. Their Remote Dog Training Collar is one of the most popular products in their lineup, designed to help dog owners train their pets effectively.
The PetSafe Remote Dog Training Collar offers a range of features that set it apart from other remote training collars in the market. Firstly, the collar has a range of 100 yards, which is perfect for outdoor training or for correcting behavior from a distance. Secondly, it has eight adjustable levels of static stimulation and vibration, providing a range of options for different dog behaviors and temperaments. The different modes allow for safe and effective dog training, with the static stimulation providing a stronger correction only when needed.
This collar can be used to train dogs in several ways. It can help correct unwanted behaviors, such as excessive barking, jumping, and digging. It can also be used to teach basic commands like sit, stay, and come. The PetSafe Remote Dog Training Collar is an excellent tool for training dogs in the field, where the owner needs to be at a distance from the dog.
The PetSafe Remote Dog Training Collar comes equipped with three training modes – beep, vibration, and static stimulation. The beep mode simply provides an audible beep that alerts the dog that a correction is coming. Vibration mode gives a mild, yet effective, stimulation to your dog, helping them concentrate on you when you give a command. The static stimulation mode provides a stronger correction when the beep or vibration modes are not enough to get the dog to stop unwanted behavior.
The collar is designed to fit dogs of different sizes, with adjustable prongs. This collar is suitable for larger breeds and can be used for dogs weighing over 8 pounds. The collar is also water-resistant and has a long battery life, making it perfect for outdoor activities and long training sessions.
Garmin Sport Pro
If you're a hunting dog owner looking for a reliable and durable remote training collar, the Garmin Sport Pro might be a great option for you. This dog training collar is specifically designed for hunting dogs, providing a range of features that cater to their needs and keep them safe in the field.
One of the most notable features of the Garmin Sport Pro is its impressive 1,300-foot range. This means that even if your dog is running far ahead of you, you will still be able to communicate with them and provide necessary corrections. Additionally, the collar is waterproof and durable, ensuring that it can withstand harsh weather conditions and rough terrain.
Another unique feature of the Garmin Sport Pro is its built-in beacon lights, which can be a lifesaver in low-light conditions. These lights make it easier to keep tabs on your dog or locate them in the dark, reducing the risk of losing them in the field.
The Garmin Sport Pro also features ten stimulation levels, allowing you to customize the collar's correction strength based on your dog's behavior and sensitivity. The collar also comes with interchangeable contact points, ensuring that you can adjust the collar to fit your dog comfortably and safely. Additionally, Garmin offers customizable colors and accessories, allowing you to create a collar that matches your style and needs.
Petrainer PET998DBB Training Collar
The Petrainer PET998DBB Training Collar is a reliable and affordable option for pet owners who are looking for a way to effectively train their dogs. It comes packed with features designed to help you teach your dog basic commands while stopping bad behavior.
This training collar uses a remote control that allows you to manage your dog's behavior from up to 330 yards away. You can use it to deliver three types of correction – a sound beep, a vibration, or a static shock – depending on the behavior you want to correct. It also includes four different modes of operation, which include shock, vibration, beep, and flashing LED lights.
One of the main selling points of the Petrainer PET998DBB is its affordability. It is a cost-effective option for pet owners who are hesitant to invest in pricier training equipment. Despite its budget-friendly price, it still delivers top-notch features that can aid in dog training.
This collar is also suitable for all dog breeds and sizes, thanks to its adjustable collar strap that can fit neck sizes up to 25 inches. It can also accommodate up to two dogs, making it an excellent option for multi-pet households.
In terms of specifications, the Petrainer PET998DBB Training Collar uses a rechargeable lithium-ion battery that can last up to a week with normal use. It also has a waterproof rating of IPX7, making it safe for your pet to wear in the rain or while swimming.
Boss Educator ET-800 By E-Collar Technologies
When training large and stubborn dogs, having the right tools can make all the difference. The Boss Educator ET-800 by E-Collar Technologies is one of the top-performing dog training collars on the market and is highly recommended for pet owners who are serious about training their canines.
The Boss Educator ET-800 operates through a remote control and receiver interaction. With a range of up to 1 mile, the remote offers you full control over your dog's behavior, allowing you to correct undesirable behavior instantly. One of the standout features of this collar is its 100 levels of static correction, as well as an additional boost of up to 60 levels, making it ideal for even the most challenging dogs.
For sensitive dogs, the Boss Educator ET-800 offers tone and vibration options, which are more gentle alternative correction options. The collar is also fully waterproof, making it safe for your dog to wear in any weather condition or situation. Additionally, it has a rechargeable battery that provides long-lasting usage.
The Boss Educator ET-800 is compatible with dogs that weigh over 20 pounds, making it an ideal option for larger breeds. Its robust features and exceptional quality make it one of the best choices for pet owners who want to invest in a collar that they can rely on for successful training.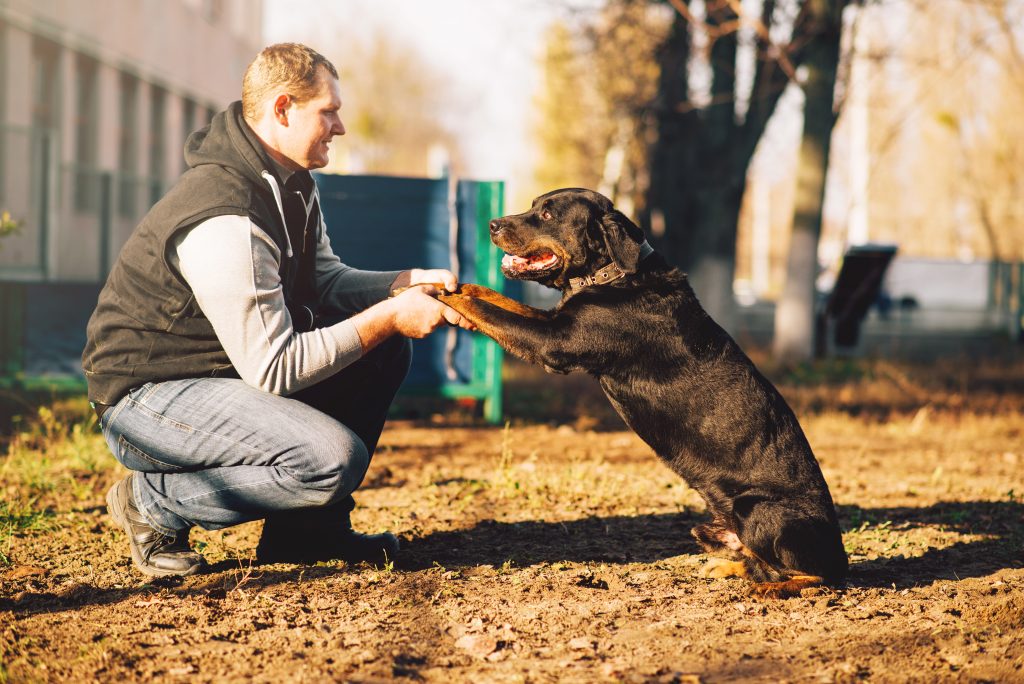 Conclusion
In conclusion, choosing the best collar to train a dog is essential for success. It's important to consider your dog's size, temperament, and the type of training you will be doing before making a decision. While some collars may seem harsh, they can be effective when used correctly and in the right situations. However, positive reinforcement training methods should always be used in conjunction with any collar training. Remember to consult with a professional trainer or veterinarian if you have any concerns or questions about collar training. With the right collar and training approach, you and your furry friend can achieve great success in your training journey.